ANNUAL REVIEW - ÅRSKRÖNIKOR
Looking back on 2017
2016 was an amazing year and we didn't think we ever could beat the result at all but.....proud, happy and overwhelmed we can now state, we did it!

With wins in major shows such as:
- BOB at World Dog show in Leipzig with Bliss (CH Keepsake's Timtara Pure Bliss)
- BOB at Euro Dog show in Ukraine with Jacob (CH House Of Softy Orlando)
- BIS at the Danish Terrier Club 90 year Jubile show in Svendborg, DK with Ch House Of Softy Valencia
- Top wining show wheaten in Denmark with Ch House Of Softy Vargas
- 2nd best terrier breeder and BOB ISCWT breeder in Denmark
- CH House Of Softy Orlando 2nd best show terrier in CZ
- Ch House Of Softy Valencia 2nd best bitch show wheaten in Sweden

We also achived:
- 74 times BOB or BOS
- 19 BIG and BIS placements
- 44 CAC
- 38 CACIB
- 13 new champion titles
- 14 new winner titles

But most important, the health, we remain with a long-term approach when it comes to our breeding strategy using only healthy and HD free parents which so far have paid off very well. Also worth mentioning, dogs from at least 10 different combinations have been shown, it shows how broad our breeding is!
Two new litters have been breed during the year which we are very excited to follow up closely on and if developted as we think they will be, soon shown too!
Thanks to everyone that bought a puppy from us, to our fantastic foster homes&families who always support us, to all judges from many parts of the world appreciating our Wheatens and to everyone who cheered on us, we are very grateful having you all! We look forward to meet you all in 2018, see you all soon!
(Pls note: No pictures are manipulated, nor photoshop)
Ulrika & Tino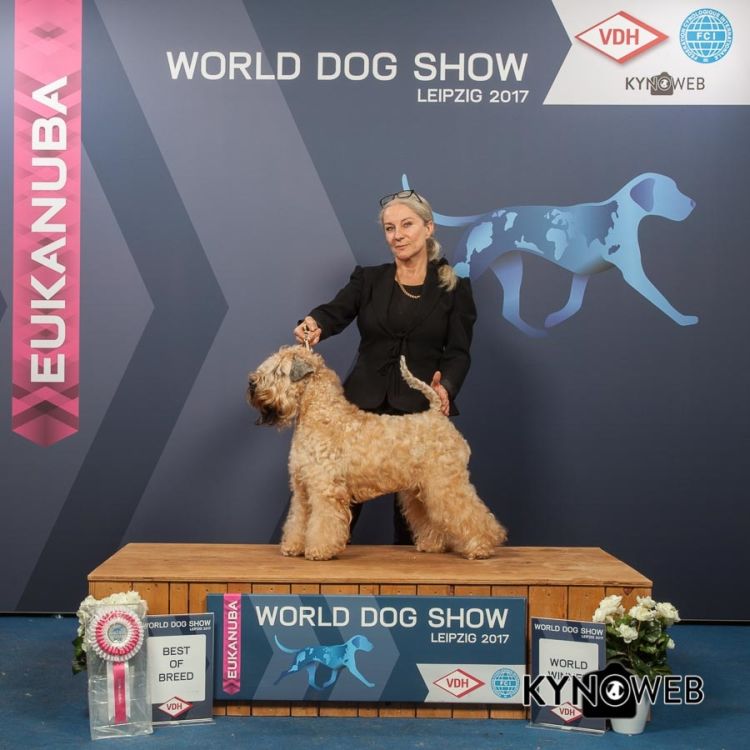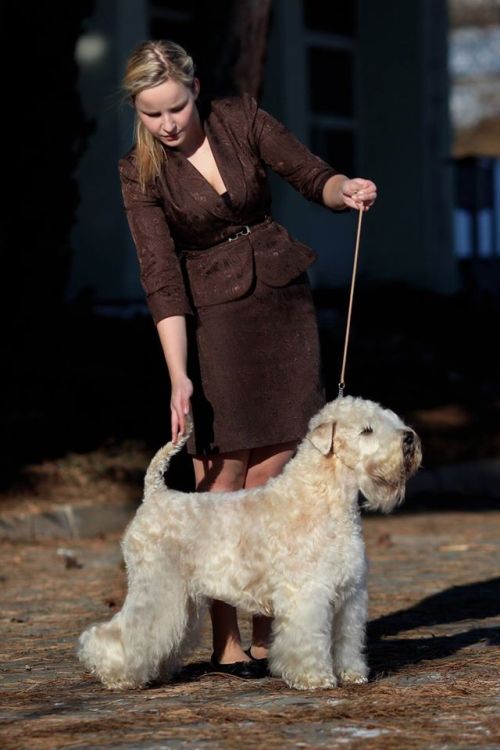 CH Keepsake's Timtara Pure Bliss & CH House Of Softy Orlando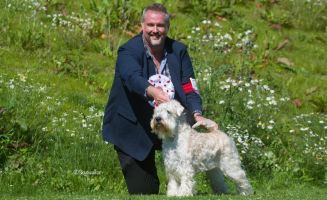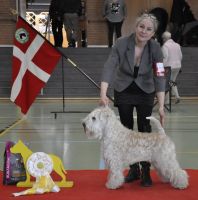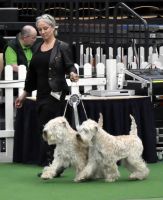 Looking back on 2016
This year our kennel got its first Tracking Champion SE VCH, thanks to HOS Ulli owned by Maj-Britt Olsson! And in the showrings we showed the youngster to Champions, HOS Unix, HOS Valencia, HOS Vargas, HOS Unni, HOS Sylvester, HOS Undine and Bliss, the Canadian! And still to be confirmed, HOS Unix and Bliss also gets the International champion title! MultiCh MultiW HOS Orlando is clean sweeping the show rings i Europe, BOB and titles after titles, latest is the Amsterdam Winner in high entry! And Ch HOS Unni also became the Danish Kennel Club's nb1 breed winner 2016, an outstanding performance knowing she started the first quarter of the year in intermediate class....! And some interesting litters was also born to which we look forward to show in the rings coming years.

Our show year 2016 in numbers:
- 64 times BOB or BOS
- 7 BIG and BIS wins
- 39 CAC
- 15 new champion titles
- 22 new winner titles
- HOS Orlando for the 5th time top winning show Wheaten(TBC) and 4th time Top-wining show Terrier in Czech! Team Subertova did it again!

We also achived:
- 74 times BOB or BOS
- 19 BIG and BIS placements
- 44 CAC
- 38 CACIB
- 13 new champion titles
- 14 new winner titles

But most important, the health, we remain with a long-term approach when it comes to using only healthy parents which so far have paid off very well.

And repeating our self every year too, but; Thanks to everyone that bought a puppy from us, to our fantastic foster homes&families who always support us, to all judges from many parts of the world appreciating our Wheatens and to everyone who cheered on us, we are very grateful having you all! We look forward to meet you all in 2017, see you all soon!
Ulrika & Tino
Looking back on 2015
This year we again focused more and showed our youngsters and new generations from especially the U&V-litter, the new imports from Canada and Germany and some new bitches. With the youngster from our own breeding one cannot be more satisfied and proud, CAC's, junior titles, and CACIB! With Bliss from kennel Keepsake in Canada -what a success she did with her fantastic show spirit, judges simple fall in love with her and so did we! From Germany we got Wizzie from kennel Mother's Finest, a multichampion male with lots of show experience who in very few shows added both the Swedish and Danish champion titles to his already impressive lines of titles, he is also the father to the male Crufts winner 2015!

Our show year in figures:
- 46 times BOB or BOS
- 6 BIG and BIS
- 69 CAC
- 10 new champion titles
- 11 new winner titles

HOS Orlando for the 4th time top wining Wheaten and 3rd time Top-wining Terrier in Czech!

But most important,
Thanks to everyone that bought a puppy from us, to our fantastic foster homes&families who always support us (even if it's very early mornings…), to all judges from many parts of the world appreciating our Wheatens and to everyone who cheered on us, we are very grateful having you all! We look forward to meet you all in 2016, see you soon! Ulrika & Tino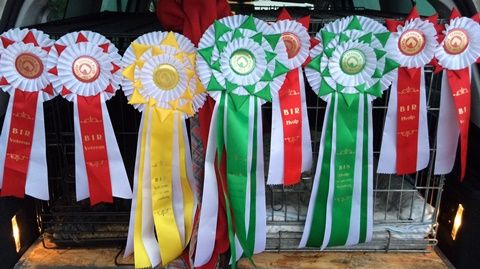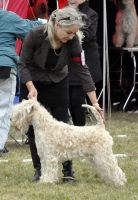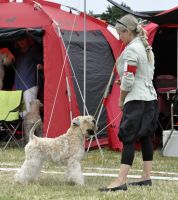 Ch MF Abracadabra-The Wizard | House Of Softy Unix | Ch Keepsake's Timtara Pure Bliss
Looking back on 2014
We showed our wheatens in Sweden, Denmark, Germany and Finland and have enjoyed great places and have had great times with old and new friends, we cannot wait to meet you all again.

Our show year 2014 in figures:
- 19 new champion titles
- 8 winner titles
- 69 BOB or BOS
- HOS Orlando for the 3rd time top wining Wheaten and 2nd time Top-wining Terrier in Czech!
- 3 CRUFTS qualifications

A couple of litters from interesting combinations have seen the world too which we are very excited to show soon.

But most important, -we are happy and healthy! Thank you to everyone that bought a puppy from us, to our special foster families who always support us (even if it's very early mornings…), to all judges from many parts of the world appreciating our Wheatens and to everyone who cheered on us, we are very grateful having you all!

Ulrika & Tino
Looking back on 2013
A recovery year? Absolutly not! Even though we didn't enter so many dog shows ourself we anyway were represented in many ways; Ch House Of Softy Orlando had an outstanding show year with many BOB, BIG and BIS placement and the official result is that he is now top show terrier nb 1 in Czech Repblica !! Ch House Of Softy Ofelia is our first Irish Champion in the breed origin country-how happy and proud can one be!

Not many breeders have accomplish this. And the sibblings House Of Softy Odessa and O'Boy are both close to their own championship titles as can be as they now have the right age(2 years) to fulfill the qualification. House Of Softy Prince has also a couple of BOB's and has soon qualified for his first champion title too. A couple of litters from interesting combinations have seen the world -Welcome to the life!

A 3rd place on the SWTK breeders group list is very satisfaying and 2 bitches among top ten Ch HOS Gelda with very few apperences and HOS Odessa is also very nice!

Being invited to judge our breed in Ufa, Russia was a fantastic experience! Seeing Russia for the first time and judgeing russian breed wheaten was a memory for life! I also held a masterclass in grooming for the russian wheaten people. Thank you Elena and Andre Sysloyatina for this oppertunity!

And I've also been invited to SWTK region North to have a masterclass in grooming for breeders and wheaten owners, thank you Region North with Therese Bäckström Zidohli and Lena Haglund, I'm honored!

We have also bought and moved into our new house, or farm, hope to see you there soon!

In summary-we are happy and healthy! Thank you to the puppy buyers, foster families, judges and everyone who cheered on us, we are greatful!

THANK YOU!
Årskrönika 2012
Ja, hur sammanfattar man ett 2012 med mer än med -helt fantastiskt och så roligt! Och så många nya vänner från när och fjärran som delar samma intresse som oss, wheaten terriern! Under 2012 har vi ställt ut hundar förutom i Sverige, i Danmark, Tyskland och i Österrike. Våra exporter har ställts i Tjeckien, Slovakien, Polen, Rumänien, Irland och i England med otroliga framgångar tex Irländsk junior Champion, Rumänsk junior Champion, Europa junior Vinnare och Slovakisk junior Champion! Till detta kommer Dansk&Nordisk&Svensk junior vinnare dessutom! Bland de äldre hundarna har det gått ännu bättre:

- 24 BIR
- 12 BIM
- 16 Championat
- 9 vinnartitlar (Dansk, Nordisk och Svensk, Europasiegerin och Europa Winner)
- 8 uppfödargruppvinster och flera BIS och BIG placeringar.
- World Dog Show Salsburg, Österrike vann vi två Res-CACIB!
- Top tre placeringar årets Ras vinnare Dansk Kennel klubb och Ras vinnare dansk wheaten terrier klubb och Rasvinnare i Tjeckien!

Dessutom finns det många bästa tik och bästa hanhundsplaceringar att räkna in! Vi har även SWTK klubbmästare i Lydnad att lägga till i meritlistan!

På SWTK prel. resultat lista så är Ch House Of Softy Hamilton bästa utställningshane 2012, Ch House Of Softy Gelda 2:a på tiksidan och kennel House Of Softy 1:a i Uppfödargruppen!

Sammanfattningsvis -Ett för oss helt otroligt år! Tack till valpköpare, fodervärdar, domare och alla er som hejat på oss, utan er hade det inte gått!

TACK ska ni ha!
Looking back on 2012
Yes, how can one summarize 2012 with more than-Completely fantastic and so funny! And so many new friends from near and far who share the same interest as us, the wheaten terrier! In 2012, we showed dogs in Sweden, Denmark, Germany and Austria. Our exports have been shown in the Czech Republic, Slovakia, Poland, Romania, Ireland and in England with incredible successes such as Irish Junior Champion, Romanian Junior Champion, European Junior Winner and Slovak Junior Champion! In addition, Danish & Swedish & Nordic junior winner too! Among the older dogs even better result,

-24 BOB
- 12 BOS
- 16 Champion
- 9 winner titles(Danish, Nordic, Swedish, Europasiegerin, Europa winner)
- 8 breedgroup wins and several BIS and BIG! - World Dog Show Salzburg, Austria we got two res-CACIB!
- Top three Breed winner Danish Kennel club and no 1 Danish Wheaten club winner and Top-winning wheaten in Czech Republic!

Additionally, there are many best bitch and best male placements to count! We also have SWTK club champion in Obedience to add too!

On SWTK prel. resultat list is Ch House Of Softy Hamilton Top-winning show male, Ch House Of Softy Gelda 2nd best bitch and kennel House Of Softy 1st in Breedergroup!

In summary-A for us incredible year! Thank you to the puppy buyers, foster families, judges and everyone who cheered on us, without you it would not been possible at all!

THANK YOU!